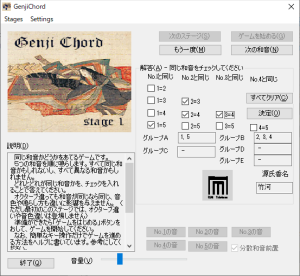 [Genji-Chord]
This is a game to play with music chords.
However, no musical knowledge is required.
5 chords will be played in order. Just guess which of them are the same chord.
In the first stage, only major and minor chords come out, but as the stage goes up, various chords come out. The way it sounds becomes more complicated. The creator of this game has a poor sense of pitch, so it's a struggle to move on from stage 5 (laughs).
The keys are set so that it is easy to play with the keyboard.
I wrote it in the help, so please give it a try.Help file is opened with the F1 key.
The game name is named after "Genji Kou" of "Kodo" which is a incense ceremony, one of the Japanese traditional culture similar to tea ceremony and flower arrangement. Please refer to Help for details.
The latest version is 1.0.0.(Released in June 2022)
You can play this game on Windows 7 or later.
There are 32-bit version and 64-bit version.(The 32-bit version works on 64-bit Windows, but considering memory efficiency, those using 64-bit Windows should download the 64-bit version.)
[Caution] I'm sorry for that distributions don't have digital certification.
Security warnings will be issued when downloading and executing a distribution.
Pleas pardon.